What is Swedish Massage?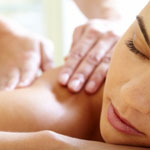 Swedish Massage was first created in 1812, in the University of Stockholm by Henrik Peter Ling. It is based on the Western concepts of anatomy and physiology, as opposed Asian-style massage, which more commonly uses energy work. Swedish massage is the most well known type of massage therapy. In fact, today, it is simply considered as 'massage' itself, as it's the most common. It typically comprises five types of movement: Effleurage, Tapotement, Petrissage, Vibration and Friction.
What are the Key Benefits of Swedish Massage?
Physical
Reduces pain and discomfort
Reduces tension
Reduces fatigue
Improves blood flow
Improves lymphatic flow (including fluid retention and cellulite)
Strengthens the immune system
Provides a feeling of physical well-being
Promotes physical relaxation
Mental and Emotional
Reduces stress related disorders
Increases energy levels
Provides a feeling of mental and emotional well-being
Promotes mental relaxation and a feeling of inner peace
What Conditions Can be Treated Using Swedish Massage?
Anxiety
Cellulite
Circulatory Related Disorders
Colds
Eczema
Energy (imbalanced)
Energy (low)
Fatigue (mental)
Fibromyalgia
Fibrositis
Fluid Retention
Hay Fever
Immunity (low)
Insomnia
ME (synonym for CFS)
Nasal Congestion
Neuralgia
Post-surgery Adhesions and Swelling
Rheumatoid Arthritis
Sinusitis
Sleeplessness and Restlessness
Stress Related Disorders
Swollen Ankles
Venous Insufficiency