Treat Somebody Special
Why not treat your loved-one, relative or friend to something special with a Holisticure Massage Gift Voucher, to show them how much you really appreciate them?
If you feel that they'd love to take time away from the hassles of life, this could be the surprise that they'd never have expected. If they suffer from back pain, sports injuries, headaches, stress or lack of sleep, a Holisticure Massage Gift Voucher could be the perfect gift they've always wished for. Courtesy of you, they could be enjoying their own, tailormade, professional massage therapy session.
Gift Voucher & Massage Session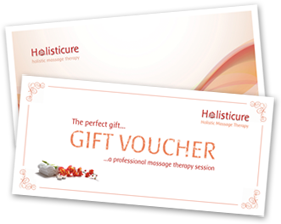 The recipient will receive a presentation pack, including information about their massage session and how to redeem their Gift Voucher. This may be sent to you, allowing you to write your own personal message, or, if you wish, it can be sent directly to them.
Their session will include a brief discussion with the massage therapist, Claudia, to put them at ease and explain what she will be doing. They will then receive a massage, suitable to their needs, for the duration specified on the Gift Voucher. If they're suffering from any injury or condition, there will be the opportunity to ask any questions, before, during or after the massage.
Prices & Purchasing
Purchasing a Massage Gift Voucher couldn't be easier. We've also managed to keep our prices as low as our standard sessions. Just look at the advantages of choosing a Holisticure Massage Gift Voucher:
No admin, presentation pack or postage fees.
Free initial consultation, so the entire session time is devoted to their massage.
And for you? You'll also receive a 20%-off voucher for your next session.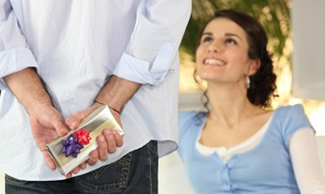 Simply choose the required session time from the list below and then contact us to order your Massage Gift Voucher, or if you require further details. We accept cash, cheque or bank transfer payments.
30 minutes:

£25

45 minutes:

£33

1 hour:

£40

1½ hours:

£55

2 hours:

£70
We look forward to welcoming your chosen, lucky person to Holisticure and helping them select their perfect treatment. As always, they will find a friendly and peaceful environment, ensuring that they come out feeling relaxed and rejuvenated.
Terms & Conditions
Booking and Gift Voucher Expiry
(1) To redeem your Gift Voucher, you must book in advance; do not arrive expecting to be able to use your Gift Voucher without making a prior booking. Holisticure will not be held liable for any costs incurred in such circumstances.
(2) If you wish, you are entitled to use the purchase value of your Gift Voucher as part-payment towards a session of a higher price.
(3) Gift Vouchers are valid for use for 12 months, up to the displayed expiry date. After this date, Gift Vouchers will automatically expire and cannot be re-instated under any circumstances. Holisticure are not responsible for informing or reminding customers when a Gift Voucher is due to expire.
Refunds and Cancellations
(1) If, for some reason, you are unable to keep your appointment, you may contact us to make a cancellation, however, you must provide 24 hours advanced notice.
(2) You are able to claim a refund for your Gift Voucher but this will be subject to a £5 administration fee, which will be deducted from the refund value. All refunds will be made only to the person who purchased the Gift Voucher. Refunds will not be given for Gift Vouchers which have either been redeemed or expired.