What is Reflexology?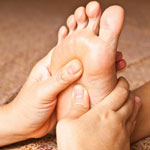 Reflexology can relieve pain by stimulating predefined pressure points on the feet and hands. It can have a positive effect on the whole body, with wide-ranging benefits, such as stress relief, muscle relaxation, circulation improvement, and headache and back pain relief. Reflexology can also relive the symptoms of cancer treatment, reducing pain, nausea, diarrhoea or constipation, and improving the quality of life.
What are the Key Benefits of Reflexology?
Physical
Reduces pain and discomfort
Reduces tension
Reduces fatigue
Improves balance, posture and alignment
Improves blood flow
Improves lymphatic flow (including fluid retention and cellulite)
Strengthens the immune system
Strengthens the nervous system
Strengthens the digestive system
Increases endorphin secretion
Provides a feeling of physical well-being
Promotes physical relaxation
Promotes recovery from injury
Mental and Emotional
Reduces stress related disorders
Restores the energy flow to the body
Increases energy levels
Provides a feeling of mental and emotional well-being
Promotes mental relaxation and a feeling of inner peace
What Conditions Can be Treated Using Reflexology?
Anxiety
Arthritis
Asthma
Back Pain
Blood Pressure
Circulatory Related Disorders
Constipation
Depression
Digestion Related Disorders
Eczema
Energy (imbalanced)
Energy (low)
Eyestrain
Fatigue (mental)
Fibromyalgia
Fibrositis
Fluid Retention
Frozen Shoulder
Hay Fever
Headache
Immunity (low)
Insomnia
Irritable Bowel Syndrome (IBS)
ME (synonym for CFS)
Migraine
Multiple Sclerosis (MS)
Muscle Tension
Neck Pain
Plantar Fasciitis
Sciatica
Shoulder Pain
Sinusitis
Sleeplessness And Restlessness
Stress Related Disorders
Swollen Ankles
Tiredness (mental)