What is Lymph Drainage Massage?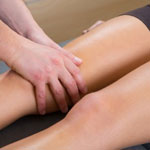 Lymph drainage massage improves the body's lymphatic circulation. This technique can be useful in improving the immune system, draining peripheral tissue and maintaining fluid balance within the body, aiding the body's ability to fight infection. It can prove very effective in the early stages of cellulite, swollen and heavy legs and feet, and during pregnancy.
What are the Key Benefits of Lymph Drainage Massage?
Physical
Reduces pain and discomfort
Reduces tension
Reduces fatigue
Improves blood flow
Improves lymphatic flow (including fluid retention and cellulite)
Strengthens the immune system
Provides a feeling of physical well-being
Promotes physical relaxation
Mental and Emotional
Reduces stress related disorders
Increases energy levels
Provides a feeling of mental and emotional well-being
Promotes mental relaxation and a feeling of inner peace
What Conditions Can be Treated Using Lymph Drainage Massage?
Anxiety
Cellulite
Circulatory Related Disorders
Colds
Eczema
Energy (imbalanced)
Energy (low)
Fatigue (mental)
Fibromyalgia
Fibrositis
Fluid Retention
Hay Fever
Immunity (low)
Insomnia
ME (synonym for CFS)
Nasal Congestion
Neuralgia
Post-surgery Adhesions and Swelling
Rheumatoid Arthritis
Sinusitis
Sleeplessness and Restlessness
Stress Related Disorders
Swollen Ankles
Venous Insufficiency