What is Kinesio Taping?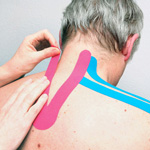 You have probably seen numerous football, rugby and tennis players - even athletes at the London Olympics - wearing brightly coloured tape. This is Kinesio Tape.
Kinesio Taping is now used by men and women in any sport, whatever their ability, to provide support and stability to their muscles and joints. It is also useful for treating clients with issues, such as neck pain, sacroiliac pain, lower back pain, tennis elbow, plantar fasciitis and biceps tendinitis.
What are the Key Benefits of Kinesio Taping?
Physical
Improves the contraction of weakened muscles
Reduces muscle fatigue and spasms
Reduces over-stretching and over-contraction of muscles
Re-educates muscles through sensory feedback
Lessens swelling by aiding the lymphatic system
Minimizes post-traumatic or post-surgical bruising through improved circulation
Helps correct joint mechanics by aiding muscle function around the joint
Relieves pain by activating the natural analgesic system in our skin receptors