What is Indian Head Massage?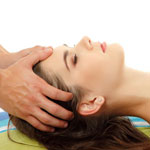 This involves the manipulation of soft tissues in the shoulders, neck, scalp and face, and balancing Chakras. Indian head massage can relieve headache, neck and back pain, stimulate the immune and circulatory systems, increase concentration, and promote relaxation and sleep.
What are the Key Benefits of Indian Head Massage?
Physical
Reduces pain and discomfort
Reduces tension
Reduces fatigue
Improves blood flow
Strengthens the nervous system
Increases endorphin secretion
Provides a feeling of physical well-being
Promotes physical relaxation
Promotes healthy hair
Mental and Emotional
Reduces stress related disorders
Restores the energy flow to the body
Enhances mental alertness and concentration
Enhances calm, clear and creative thinking
Increases energy levels
Provides a feeling of mental and emotional well-being
Promotes mental relaxation and a feeling of inner peace
What Conditions Can be Treated Using Indian Head Massage?
Anxiety
Blood Pressure
Chronic Fatigue Syndrome
Concentration (lack of)
Creativity (lack of)
Depression
Energy (imbalanced)
Energy (low)
Eyestrain
Fatigue (mental)
Hay Fever
Headache
Immunity (low)
Insomnia
Migraine
Muscle Tension
Nasal Congestion
Neck Pain
Self-esteem
Sinusitis
Sleeplessness And Restlessness
Stress Related Disorders
Tiredness (mental)