What is Deep Tissue Massage?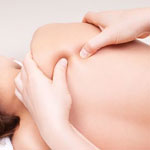 Working deeply into the muscles, deep tissue massage is especially helpful with chronically tense and contracted muscles. It loosens scar tissue and lengthens muscles, improving blood pressure and releasing stress.
What are the Key Benefits of Deep Tissue Massage?
Physical
Reduces pain and discomfort
Reduces tension
Reduces fatigue
Breaks down knots
Improves flexibility
Improves mobility
Improves balance, posture and alignment
Improves muscle tone
Improves blood flow
Strengthens the nervous system
Increases endorphin secretion
Provides a feeling of physical well-being
Promotes physical relaxation
Promotes recovery from injury
Mental and Emotional
Reduces stress related disorders
Provides a feeling of mental and emotional well-being
Promotes mental relaxation and a feeling of inner peace
What Conditions Can be Treated Using Deep Tissue Massage?
Anxiety
Back Pain
Blood Pressure
Concentration (lack of)
Depression
Energy (low)
Fatigue (mental)
Hypertension
Iliotibial (IT) Band Contracture
Insomnia
Joint Mobility
Lethargy
Muscle Knots
Muscle Spasms
Muscle Tension
Muscular Restriction
Neck Pain
Sciatica
Self-esteem
Shoulder Pain
Sleeplessness and Restlessness
Stiff Joints
Stress Related Disorders
Tiredness (mental)