What is Ultrasonic Cavitation?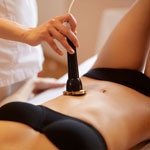 Ultrasound Liposuction, also known as Ultrasound Cavitations, is a non-surgical inch loss treatment with the following benefits:
INSTANT RESULTS!

Fat reduction
Non-surgical
Safe
Pain free
How Does it Work?
The treatment uses Cavitation Technology which allows for the non-surgical attack of inflexible fat deposits that, no matter how much you diet and exercise, never seems to disappear.
It's a safe, pain free and effective alternative to liposuction. There's no injections, no anaesthesia and no recovery time, and at a fraction of the cost!
The following areas of the body may be treated:
Abdomen
Sides / love handles
Buttocks
Thighs
Upper arms / bingo wings
The treatment uses a combination of Ultrasound Cavitation and Radio Frequency to quickly and painlessly:
Break down fat
Remove cellulite
Lift and tone your skin
Improve your skin's texture
Contour and reshape your body
Tighten your skin
Help drain toxins
Improve lymphatic drainage