What is Diamond Microdermabrasion?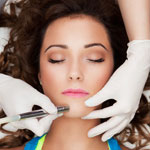 Physicians and aestheticians in Europe were among the first to recognise the therapeutic rejuvenating advantages of Diamond Microdermabrasion (MDA). They were looking for an alternative to the old fashioned technique of dermabrasion, which was performed by employing a rotating wire brush or diamond wheel to plane down or sand the skin's irregular area.
MDA is a quick, painless and non-surgical approach to skin rejuvenation - a simple and effective form of exfoliation. It's considered a mechanical or physical exfoliation, using diamond tips to remove the outer layer of dead or damaged skin cells, revealing a more youthful skin.
MDA is a non-invasive treatment, designed to improve the overall texture, tone and clarity of the skin, whilst restoring the skin's elasticity.
What are the Key Benefits of Diamond Microdermabrasion?
Encourages cell renewal
Encourages the production of collagen
No down-time/recovery time following treatment
Can safely treat all skin colours and skin types
Immediate visible results
Helps treat early signs of ageing
Rejuvenation of aged skin
Vacuum action improves elasticity and muscle tone of skin
Enhances penetration of products post treatment
Comfortable and painless
Smoother skin
Can treat delicate areas surrounding the nose, eyes and mouth
What Conditions Can be Treated Using Diamond Microdermabrasion?
Acne and Acne Scarring
Blackheads
Cellulite / orange peel effect
Dry and dehydrated skin / uneven skin tone
Dull skin
Enlarged pores
Excessive oiliness
Fine lines and wrinkles / ageing skin
Hyperpigmentation / melasma
Stretch marks / pigmentation / blemishes
Sun damaged skin
Superficial age spots
Whiteheads